CUSJ Annual General Meeting (AGM) 2012
Partnering With First Nations
The Ottawa Chapter of CUSJ invited members to join them for the CUSJ Dinner and a social evening
Saturday Night May 19th – CUSJ dinner at Buffet Moni Mahal.
Saturday Night – 8:00 p.m. Social Action Movie Night:For the Next Seven Generations:  
In 2004, thirteen Indigenous Grandmothers from all four corners,  moved by their concern for our planet, came together at a historic gathering, where they decided to form an alliance: The International Council of  Thirteen Indigenous Grandmothers. This is their story.  Four years in-the-making and shot on location in the Amazon  rainforest, the mountains of Mexico, North America, and at a private meeting with the Dalai Lama in India, For the Next 7 Generations follows what happens when these wise women unite.  Facing a world in crisis, they share with us their visions of healing and a call for change now, before it's too late.  A collection will be taken on behalf of the Grandmothers and their work.
Monday 8:30-12:30 – CUSJ AGM – Live Streamed on the Web
For the first time CUSJ offered the opportunity for all our members across Canada to attend our meeting, hear our speakers, participate in the discussion, and vote for the executive.    We wanted to honour those who don't travel because of greenhouse gases or cost and yet want to be part of our meeting.  The first hour was chapter reports and discussion and a celebration of the new Westcoast chapter.  Then business.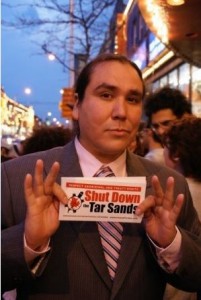 11:00  Speaker:  Clayton Thomas Muller,  Tar Sands Campaign Director : Why I Oppose the Gateway Pipeline  
IEN Tar Sands Presentation by Clayton Thomas
Watch Clayton Thomas Muller's presentation on 12 video clips:
Clayton Thomas-Muller, of the Mathias Colomb Cree Nation also known as Pukatawagan in Northern Manitoba, Canada, is an activist for Indigenous rights and environmental justice. With his roots in the inner city of Winnipeg, Manitoba, Canada, Clayton began his work as a community organizer, working with Aboriginal youth. Over the years Clayton's work has taken him to five continents across our Mother Earth. Based out of Ottawa, Ontario, Canada, Clayton is involved in many initiatives to support the building of an inclusive movement for energy and climate justice. He serves on the board of the Global Justice Ecology Project, Canadian based Raven Trust and Navajo Nation based Black Mesa Water Coalition. Recognized by Utne Magazine as one of the top 30 under 30 activists in the United States and as a "Climate Hero 2009" by Yes Magazine, Clayton is the Tar Sands Campaign Director for the Indigenous Environmental Network. He works across Canada, Alaska and the lower 48 states with grassroots indigenous communities to defend against the sprawling infrastructure that includes pipelines, refineries and extraction associated with the tar sands, the largest and most destructive industrial project in the history of mankind.
Want to know what Gateway means to First Nations peoples?  Listen to Ta'Kaiya tell you  (6 minute song)